The show in Poland
Update: relations, videos, photos, etc. from the concert can be found in this news item:
2007-06-13 Stadion Śląski, Chorzów, Polska
Date: 2007-06-13
Place: Silesian Stadium, Chorzow, Silesia, Poland
Tickets: 110 PLN, 165 PLN
Gates opening: 15:00 (3 p.m.)
Date
13th June 2007 — that's Wednesday.
The concert
The rumours that Pearl Jam will play in Poland in 2007 floated around since early December. Lately they even appeared in the biggest Polish media and that was one of the reasons that promoter decided to confirm the show so early (on 20th of January).
The show will be the only one in the Central-Eastern Europe during 2007 European tour. Here's the full touring schedule:
8th June, Passeio Maritimo Alges, Lisbon, Portugal
9th June, Festimad, Madrit, Spain
12th June, Munich, Olympiahalle, Germany
13th June Stadion Śląski, Chorzów, Poland
15th June, Jammin' Festival, Venice, Italy
16th June, Nova Rock Festival, Vienna, Austria
18th June, Wembley Arena, London, England
21st June, Ltu Arena, Dusseldorf, Germany
23rd June, Southside Festival, Tuttlingen, Germany
24th June, Hurricane Festival, Scheebel, Germany
26th June, Forum, Copenhagen, Denmark
28th June, Geoffert Park, Nijmegen, Netherlands
29th June, Werchter Festival, Werchter, Belgium
The support acts
American band Linkin Park will perform before Pearl Jam, promoting their upcoming, yet unnamed album. Actually it's not a support act but a second headliner, which means the band will play a full set. Full set like Pearl Jam playing before Tom Petty and U2.
There will at least one more opening band, most probably a Polish one.
At this moment a detailed schedule of the whole event is unknown.
External links:
The official Linkin Park site: linkinpark.com
The Polish Linkin Park site: lpzion.org
The venue
Silesian Stadium (Polish: Stadion Śląski) is the biggest Polish football (soccer) stadium and the official home ground of the Polish national football team. It's capacity (during the shows) is about sixty/seventy thousands.
The Stadium was built in 1956. Although much changed since then it is still an old-fashioned venue — which means that seated sectors are far away from the play field. If you're not going to GA area we recommend taking a binoculars.
External links:
The official site: StadionSlaski.pl
Silesian Stadium on Wikipedia: Wikipedia.org
Silesian Stadium on the Google Map: maps.google.com
The city
Chorzów is a small city (only 33,5 km2), but together with other towns of Upper Silesian Industry Area it's the biggest urban zone in Poland. Basically Chorzów and Katowice (the city where Pearl Jam played last time in Poland) are the same — you won't notice when you leave one city and arrive another.
There's not many things to see in Chorzów — it's an industrial city full of factories and warehouses. However it's very close to Cracow and Wroclaw, which are the most beautiful towns in this part of the world (hey, maniacs! Last time Pearl Jam were in Poland they slept in Cracow ;)).
External links:
The official site: www.chorzow.pl
Another official site: www.chorzow.um.gov.pl
Chorzów in Wikipedia: Wikipedia.org — visit this site especially if you are curious about pronunciation of "Chorzów" (and then try to say it yourself ;))
The country
Poland is a middle-sized country in the Central-Eastern Europe. Despite rumours and stereotypes the country is civilised and the weather is good for the most part of the year :)
Sites worth to see before your visit in Poland:
Wikitravel
Some useful information about lifestyle of Poles.
Pearl Jam played here three times. For the first time in 1996, on Torwar, in Warsaw (the capital city of Poland). Listen to mp3s from that show.
Later, in 2000, they played two shows in Katowice. Both of them were great, yet the second one is one of the best they ever did (band members seems to like it a lot too). Watch videos from the second show in Katowice
Tickets
There are two price categories: 165 PLN (approximately 56 $ / 42 €) for the seated sectors placed in front of a stage (behind general admission area, marked orange on an image below) and 110 PLN (approximately 37 $ / 29 €) for general admission and seated sectors on the sides (red and blue areas on the image).
Lately a so-called VIP tickets have been made available. For 400 PLN (approximately 137 $ / 103 €) you get seats in front of the stage (sector number 30, marked green).
Tickets are available in:
Ticketpro.pl. They accept credit card orders.

You can also book tickets through a promoter's website but the only accepted form of payment is a postal money order. Also the booking is valid for three days only — if they don't get your money by that time the order will be canceled.
Figures from 1 to 7 on the image below are the numbers of a gates.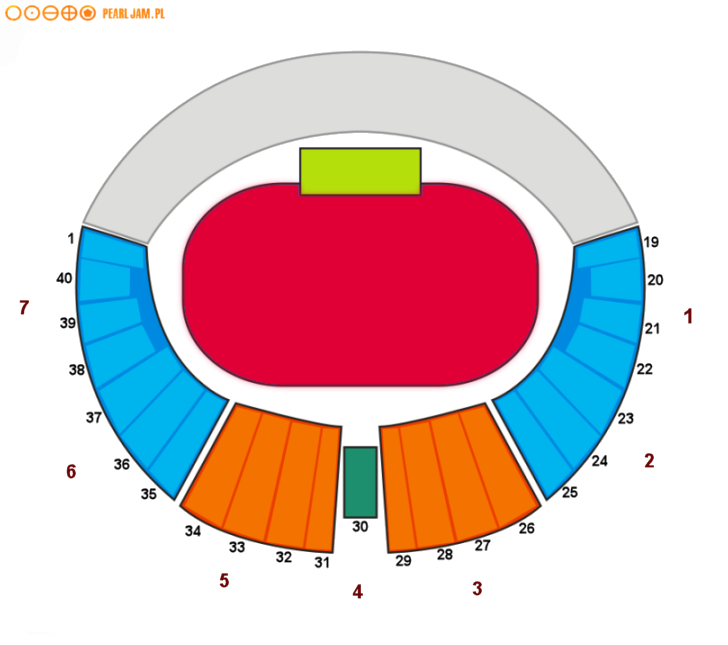 TenClub pre-sale is over.
Travel (general info)
Useful information about travelling to Poland can be found on www.poland-tourism.pl as well as on aforementioned Wikitravel.
By plane
When travelling by plane you have several airports to choose from.
Here is the list of them – click on the links to get know which airlines make flights to which airport and from what countries.
A list of selected cheap airlines offering a flights to Poland:
from Ireland to Cracow, Warsaw or Poznań
from Scotland and Ireland to Katowice, from England (London), Ireland, Italy to Cracow or Wrocław, from many other European cities to Warsaw
from UK to Cracow or Warsaw
from Scandinavian cities (Oslo, Stockholm, Trondheim) to Krakow. From various European cities to Warsaw
from UK or Ireland to Cracow, Warsaw, Wrocław
from various European cities to Krakow (+ shuttle bus to Katowice)
from various European cities to Katowice or Warsaw
www.skyscanner.com is probably the best place to find a cheap flights to Poland
By train
It is possible that there will be special trains on the day of the concert — most probably from Warsaw, but possibly also from other cities like Szczecin, Gdynia or Gdańsk.
The standard in Polish trains varies but it should be OK if you decide on InterCity/EuroCity.
Also the same company that provides InterCity trains has a separate, cheaper brand TLK. For some reasons they often use 1st class wagons as a 2nd class ones, therefore it could happen that you will ride in the best class at the price of the worst :) The bad thing is that TLK trains usually ride slower.
There are some promotions going on constantly, like for example Superwagon which let you ride in the 2nd class IC for only 29 PLN (approx 10$/7,25€). It applies only to selected traces though (eg. from Warsaw to Katowice) and number of tickets is limited. But even if you don't get this one you should not be worried as train tickets in Poland are rather cheap.
More promotions
More info on trains can be found on InterCity site. You can buy ticket online through that page too.
External links:
Great online trip planner: www.viamichelin.com
How to get to Chorzów
From Munich
Day before the show in Chorzów Pearl Jam plays in Germany, in Munich. The distance between these two places is about 900 kilometers. How to get over it?
Some Polish fans arrange a bus trip — you can still join them. You'll find all the details on this site: topbilety.pl/pearljam/english.htm.
Lufthansa offers a flight from Munich to Kraków for astonishing price of around 900$.
From Warsaw
Choose train or plane. You won't get directly to Chorzów thought, but to Katowice — this is of course not a problem as it's almost the same city.
To find all the connections between Warsaw and Katowice go to
pkp.pl site, type "Warszawa Centralna" in "From" field and "Katowice" in "To" field. If you typed everything right and get such error message: "Your input is ambiguous. Please select from the selection list" do not select anything, just press on "Search connection" button.
Ticket prices vary from about 44 PLN (approx 14$/11€) to 100 PLN (33$/25€) depending on type and class of train. IC or EC train will get you to Katowice in around two and half hour, normal trains need around two hours more.
Lot Airlines — cost of one way ticket starts from 118 PLN (39$/30€). Flight duration is 1 hour.
From Cracow
To find all the connections between Cracow and Katowice go to
pkp.pl site and type "Kraków Główny" (or copy it from here) in a "From" field. A "To" field fill with Katowice. Select date and press "Search connection" button.
If you typed everything right and get such error message: "Your input is ambiguous. Please select from the selection list" do not select anything, just press on "Search connection" button again.
Ticket prices vary from about 13 PLN (approx 4$/3€) to 20 PLN (6$/4€) depending on type and class of train. A ride takes about 1,5 hour.
From Katowice
The map below shows the most important points in Katowice and Chorzów: train station, tram stops, the venue. Click on the baloons to get more info
If you want to go from Katowice Airport to Chorzów you have no other option beside going to Katowice center first. Of course, if you take taxi you can go directly to
Silesian Stadium, but still, you will go through Katowice anyway.
From airport to Katowice you can go by:
If you go from Katowice train station just go outside the main building. Then go through catwalk. Go down the stairs and you will be on "3 Maja" street. On the right you
will see a tram stop. Buy the ticket for 2.4PLN (0.6€/0.8$) in one of the kiosk you will see around. Take the line no 11 and you will get directly to Silesian Stadium.
Becareful with directions — your tram must go towards "Chebzie Pętla" (which means it will go from the left to the right when looking from catwalk).
If you go from Katowice Airport by bus you will be left next to Spodek — the venue where Pearl Jam played in 2000. There you can take a tram to Silesian Stadium.
First: buy the ticket for 2.4PLN (0.6€/0.8$) in one of the kiosk you should find around. Then take one of the following tram lines:
line no 6, direction: Bytom Plac Sikorskiego
line no 11, direction: Chebzie Pętla
line no 23, direction: Stadion Śląski
line no 33, direction: Stadion Śląski
line no 41, direction: Bytom Politechnika Śląska
We suggest studing tha map above precisely in case of any doubtless.
You Forgot Poland
During the latest European tour of Pearl Jam, in 2006, Polish fans organised a little action in regret of not having a concert in their country. The idea was based on a famous slogan "You Forgot Poland". The origin of that phrase comes from a statement by George W. Bush concerning Poland's involvement in the Iraq War, which was said during the first presidential election debate with John Kerry, in 2004.
Read the full story on Wikipedia.
In our action we pointed that words onto Pearl Jam along with the image of discontent Bush. See the image below.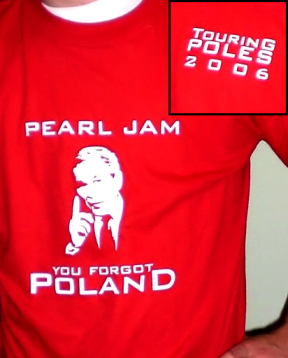 What everybody liked about the whole thing was that it was simple, funny and referenced a politic in a "Pearl Jam manner".
Polish fans worn such t-shirts on a concerts they attended. During a first Lisbon show the tee was showed to Mike McCready. As he couldn't see what was on it he requested a fan to throw it to him. When he got the shirt he laughed and said he's sorry. Later he presented the t-shirt to Jeff Ament (this is what we saw) and most probably also to other members of the band (he took the t-shirt off stage after the main set and returned with it for the second encore).
Another big moment of the action was a concert in Prague, where there was a lot of Poles with the t-shirts and a big banner with the slogan. Ed Vedder saw it during "Yellow Ledbetter" and improvised a verse: "I will never forget you there"
Watch video documenting the moment Eddie spot the banner (a second one on the page) and the other one where you can hear changed lyrics.
We don't know for sure if the fact that Pearl Jam will play a concert in Poland has something to do with the action but we suppose it does, at least in some small percentage. Hopefully we will get know on 13th of June.